I'm a Doctor Who geek. Big time! Although I'm not what you'd call a "true Who-vian" (I only started watching with the 2005 reboot, when Christopher Eccleston took over the role), I've embraced my Gallifreyan geekdom with wholehearted glee. For me, the best part of Christmas is sitting down with my dinner to watch the Doctor Who Christmas special. So naturally I was over the moon when I discovered these lovely new goodies!
A TARDIS coffee mug! It's so big and blue and shiny! How could I resist?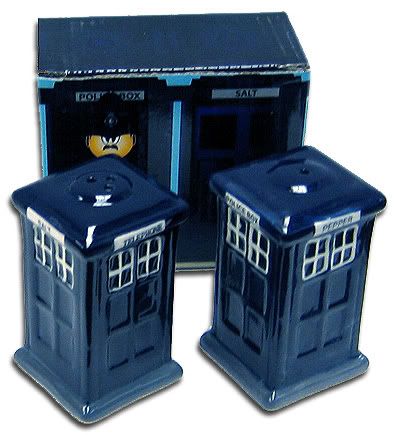 Salt and pepper shakers! The perfect size to set on the back of my stove!
And last but not least, a Dalek bottle opener! It screams "Exterminate!" every time you use it.
And there's also...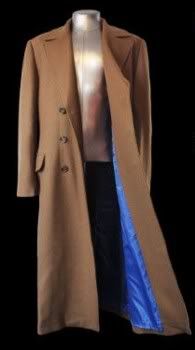 The Tenth Doctor's coat.
I'm sorely tempted, but I fear Ten's long, lanky frame fits it better than my own pear-shaped figure ever could. And so I drool from afar, imagining a smiling David Tennant modeling it for me - and wearing nothing underneath!
Well, look at that! Now I'm smiling too. ;)